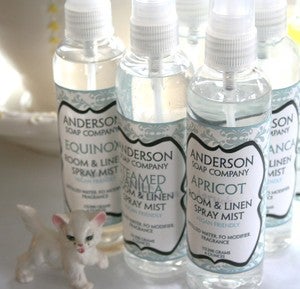 $

6.50
Shop Anderson Soap Company, you deserve it!
Great for so many things:
Smelly Couch?
Sheets need a little fresh boost after sitting in the closet?
Unexpected guests?
Or want to freshen a stale home?
This is a great alternative to the store sprays these room sprays will leave a fresh clean scent to any room or linen.
Listing is for a 4oz. spritz spray
Contains:
Distilled Water, FO Modifier, Fragrance Oil or Essential Oil
Please be sure to mist the air. Do not spray the article directly to avoid and possibility of staining material.
Availability
Apricot - 90% in stock

Cedarwood - 91% in stock

Citrus Blast - 90% in stock

Dark Rich Chocolate - 91% in stock

Dewberry - 82% in stock

Equinox - 90% in stock

Eucalyptus - 75% in stock

Fig Lychee - 90% in stock

First Frost - 73% in stock

Lemongrass - 70% in stock

Milk and Honey - 82% in stock

Pink Grapefruit - 77% in stock

Pink Watermelon - 83% in stock

Rosebud Romance - 82% in stock

Spearmint - 77% in stock

Steamed Vanilla - 90% in stock

Sweet Bay Rose - 90% in stock

Waterfall - 57% in stock